Class C Motorhomes For Sale at General RV
With their distinct profile, Class C RVs are easy to recognize. These motorhomes are great for camping at state park campsites and navigating areas where larger RVs like Class A motorhomes can't fit. Class C motorhomes offer all the comforts of home, too. Most include at least one bedroom plus additional spaces that convert to extra beds or bunks. The versatility of Class C RVs makes them a great choice for RVing families and couples.
We're sorry. We were unable to find any results for this page. Please give us a call for an up to date product list or try our Search and expand your criteria.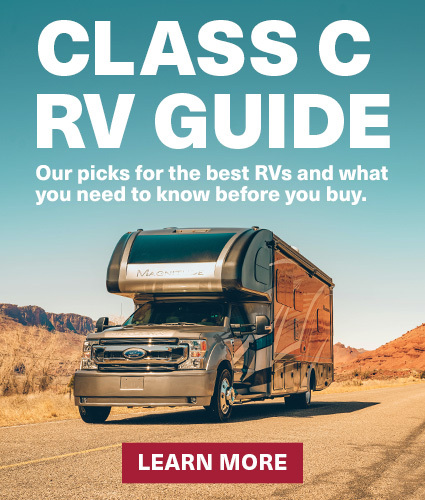 Want to learn more about Class C Motorhomes?
View our frequently asked questions below to learn some of the basics.  Want to dive even further?  Check out our Class C RV guide for a great resource jam packed with advice about Class C RVs including our picks for the best Class C RVs.
A Class C motorhome is a mid-sized type of motorhome built on a truck or van chassis. Some well-known Class C motorhome chassis manufacturers include Chevy, Dodge RAM, Ford and Mercedes Benz. These RVs can have a gas or diesel engine.
Larger than camper vans but smaller than Class A motorhomes, Class C RVs have a distinctive "cab-over" profile that makes them easy to recognize and provides an extra bed or storage space. Class C motorhomes offer similar amenities to their Class A counterparts, like kitchens, bathrooms, and slideouts, just on a smaller scale.
Super C RVs are very similar to Class C RVs but built on a larger, heavy duty chassis and with a more powerful engine. Super C RVs can be very luxurious, too.
Class C RV owners enjoy all the comforts of home on the road including many features and benefits such as:
Well equipped kitchens for easy meal prep
Comfortable bedrooms so you can rest while you travel
Full size bathrooms so you don't have to squeeze into odd spaces or use public restrooms
Shorter chassis for easy manuevering around campsites and parks
Variety of RV floorplans to suit most tastes
Lots of amenities and options making them great for families or couples who travel with friends
Class C motorhome prices vary widely. For example, some used Class C motorhomes can be purchased for less than $50,000 while new, luxury Super Cs can exceed $150,000. Keep in mind that the price is highly dependent on the brand and condition of the RV, plus the features and upgrades you choose. You can get everything from off-road tires to solar power packages installed.
If you're wondering whether a Class C RV is worth the cost, consider how often you'll use your RV, where you'll travel, who will go with you, and what types of amenities you'll need to camp comfortably. You might be surprised to find that RV travel can be more affordable than traveling by airplane and staying in hotels. If you're shopping for a Class C motorhome (or any RV) on a budget, consider used options which can be more wallet-friendly.
Respected RV manufacturers like Coachmen, Entegra, Forest River, Jayco, Nexus, Thor Motor Coach and Winnebago all make high quality Class C motorhomes.
If you're looking for the best Class C RVs on the market, General RV has lots of options!
These are just a few of the trusted brands we partner with to provide you with the most reliable Class C motorhomes. Ask one of our RV experts for a Class C RV that will check all your boxes.
Some Class C RVs are compact and measure in around 20 feet long. Other Class C RVs can exceed 30 feet in length. You can search all Class C RVs by length on GeneralRV.com if you're looking for a small Class C RV or a large Class C RV. The size of Class C motorhomes can also depend on what type of Class C you choose. For example, Super C RVs and Class C toy hauler RVs are generally longer and heavier.
Class C motorhomes are very popular so a wide variety of sizes and floorplans are available for sale. Ultimately, the best size will depend on how you plan to use your Class C RV. For example, if you travel with children or grandchildren, you may prefer a Class C RV with bunk beds. If you plan to tow a vehicle behind your motorhome, look for a Class C RV with towing capabilities.
Want to tow a vehicle behind your motorhome? Class C RVs can do that! Bringing a smaller vehicle on your adventures allows you to take day trips or make a quick run to the grocery store easily without having to pack up your campsite.
Towing capacity varies by model so look for those details when you're shopping for your Class C motorhome. Diesel and Super C RVs will have greater towing capacity due to their heavy duty chassis and more powerful engines.
Bonus fun fact: A vehicle towed behind a motorhome is called a "toad" or "dinghy"!
Thanks to their smaller size and the familiar chassis, Class C RVs are easier to drive than Class A motorhomes. This makes them a great option for first-time RV owners who want the conveniences of home on the road but might not feel confident enough to drive a larger motorhome.
And you don't need a special license to drive most RVs in most states. However, you may need a special endorsement if you plan to tow a vehicle behind your motorhome. Check with your nearest General RV dealer or department of motor vehicles if you have any questions about local regulations.