nuCamp RV TAB 400 Teardrop Trailers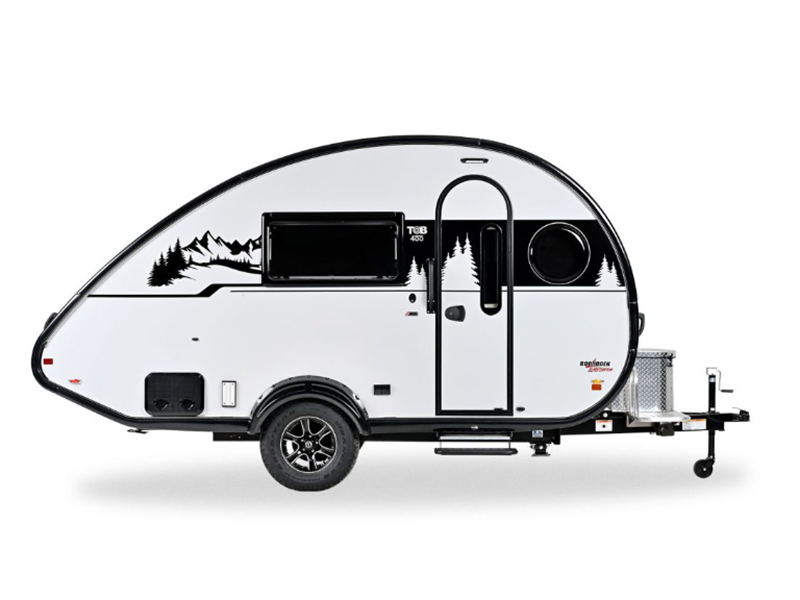 TAB is... Innovative
The TAB Teardrop Trailer has long since become a cult object. One reason for this is its unmistakably unconventional style and the other is, of course, its active fan community. The TAG is, in any case, one of the most unusual travel trailers anywhere and will surprise you with its modern and luxuriously crafted design.

WHY CHOOSE
TAB 400
Large Picture Window
Wet Bath
Sink, Two Burner Cook-top, Counter Space
Queen Bed
WHY
GENERAL RV?
Best Brands
Largest Selection
Award Winning Service
15 Locations
Family-owned since 1962
We're sorry. We were unable to find any results for this page. Please give us a call for an up to date product list or try our Search and expand your criteria.
TAB 400 Features:
Standard Features (2024)
Base Package
Premium Soft-Close Cabinetry
Alde® Heating/Hot Water System
Central A/C & Heat Exchange
Froli™ Sleep System
Rear Stargazer Window
Bluetooth® Media Center w/ 24" TV
Round, Glass-top Stainless Steel Sink
2-Burner Glass-Top Stove
4.6 cu ft. 12V Compressor Refrigerator
Power Roof Fan
Monster Picture Window
Composite Flooring
Molded Underbelly Shield
15" Steel Spare Tire
Electric Brakes
Nautilus w/ External Shower
External LP Hookup
Diamond Plate Storage Tub
Aggressive Off Road Tires
Pitched Axle
Boondock Entry Door Handle
Aluminum Utility Platform
Lagun Table w/ External Mount (Bunk Floor Plan Only)
Convenience Package
310 Watt Solar Panel
External Solar Port
100 Ah 12V Lithium Battery
1200 Watt Power Inverter
Intelligent Battery Detection Converter
Bluetooth® Battery Monitor Smartshunt
Options
Boondock Package
Additional 310 Watt Solar Panel
Holding Tank Heaters
Under-Glow Lights
Lithium Package
400 Ah 12V Lithium Battery Bank with Internal Heat
3000-Watt Inverter/Charger
Please see us for a complete list of features and available options!
All standard features and specifications are subject to change.
All warranty info is typically reserved for new units and is subject to specific terms and conditions. See us for more details.
Due to the current environment, our features and options are subject to change due to material availability.
Manu-Facts:

Our Pledge To You
The number one priority at nuCamp is your happiness. We proudly guarantee your product to be exceptional. Your purchase is more than just a camper. You become an immediate member of the nuCamp family – complete with a welcoming community and unparalleled support.
Our passion is to build the exceptional! We manufacture some of the highest quality recreational vehicles available in North America. Our dedicated craftsmen are committed to building with integrity and embracing innovative design. Our superior construction techniques and strict quality control set us apart from other manufacturers. Every nuCamp product is meticulously created by hand in Sugarcreek, Ohio.