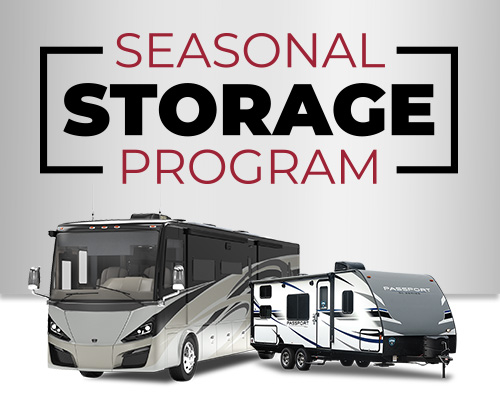 Seasonal RV Storage
Bundle RV Seasonal Storage, Maintenance & Save!
General RV now offers a seasonal storage and service program at Supercenters nationwide!* Why pay for storage, when you can bundle it with service and get free storage? We take pride in being the premier RV partner to our customers. That's why we offer up to six months of FREE storage with select services!*
Why pay just to store when we do more?
Let our highly trained RV technicians take care of your coach this storage season. We'll handle repairs and maintenance services during the off season so your RV will be ready to go when camping season begins again.
Check Storage & Maintenance off Your List
Whether your RV is due for preventative maintenance services, major repairs, or you're ready to upgrade a few accessories, we can help. Just give us a call to schedule your drop off date. Our friendly staff will take care of the rest. Our technicians will work on your RV in our state-of-the-art service facilities. It's the easy way to make sure your RV is ready for next season.
*Seasonal storage and service program not available in Richmond, Tampa, Jacksonville or Salt Lake City.
Storage Space is Limited

Call Now & Reserve a Spot
This is our nearest location to you.