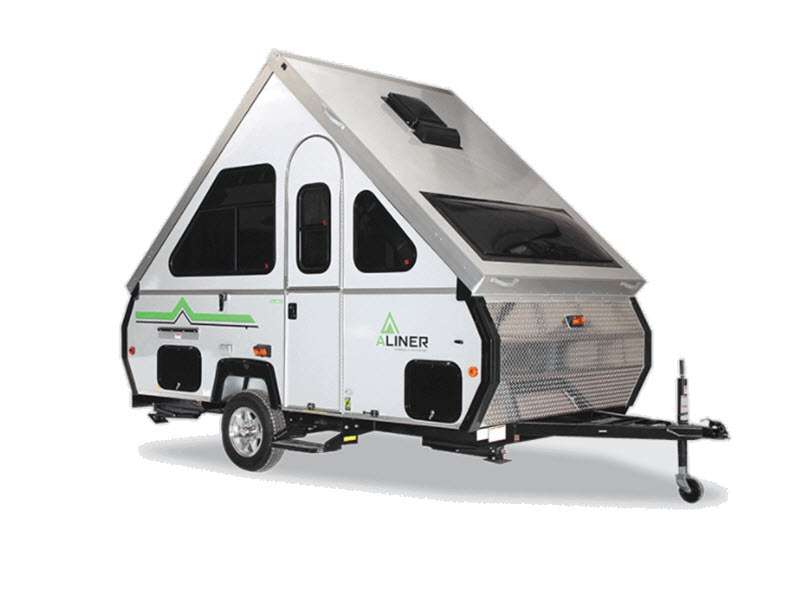 Aliner Classic A-Frame Trailer
The ALiner Classic A-frame camper provides big adventures in a small package, and with just one person, two hands, and thirty seconds, you can have your camper transformed from its travel position into its camping position! Each Classic offers timeless quality and timeless style! Built on a tubular steel frame with anodized aluminum extrusion, Azdel lightweight, thermoplastic composite interior wall and ceiling panels, and Performax 500 premium marine grade flooring. The interior provides hardwood cabinet doors, additional corner windows for panoramic views, and high density foam, hypoallergenic cushions and mattresses for comfort. You want quality and craftsmanship, and most importantly, you want comfort which is why you'll want the ALiner Classic A-frame camper as soon as you see it!

WHY
CHOOSE Classic
Command A/C Heat Pump
10" Electric Brakes
3 Cubic Foot 3-way Refrigerator
Performax 500 Premium Marine Grade Flooring
WHY
GENERAL RV?
Best Brands
Largest Selection
Award Winning Service
14 Locations
Family-owned since 1962
Classic Features:
Standard Features (2023)
Standard Equipment
Black and Gray Exterior Package
11-Gallon Fresh-Water Tank
14" Tires
3,000 lb. Axle
4 Stabilizer Jacks
High Wind Lift Assist
Water Heater
Water Pump
Furnace
Command A/C Heat Pump
3 Cubic Foot 2-way Refrigerator
3 Interior Electrical Outlets
Exterior Outlet
2 Burner In/Out Stove
Outside Shower
LED Running Lights
Sink
Microwave
Azdel Lightweight, Thermoplastic Composite Interior Wall and Ceiling Panels
Performax 500 Premium Marine Grade Flooring
Fantastic Vent-Fan
35 Amp Converter
High Density Foam, Hypoallergenic Cushions and Mattresses
Two Exterior Bag Doors
Two Skylights with Night Shades (Dormer Option Eliminates Skylight with Night Shade)
Tubular Steel Frame
E-Coated Frame with Powder Coating on the Front Tongue and Bumper
10" Electric Brakes
Vacuum Bonded Fiberglass Panels
Diamond Plate Stone Guard
Amber Porch Light
Dual Propane Tanks
Solar Port
Anodized Aluminum Extrusion
Aluminum Wheels
Full Size Radial Spare Tire and Carrier
Battery Tray
Hardwood Cabinet Doors
Additional Corner Windows - Panoramic Views
LED Interior Floor Light
Cable Hookup
Exterior Propane Connection for Optional Outside Grill or Stove
Front Utility Light
Options
Front Soft Dormer
Front Hard Dormer
Rear Soft Dormer
Rear Hard Dormer
Outside Grill
Off Road Package
Rear Sofa Layout
Rear Mattress Layout
See us for a complete list of features and available options!
All standard features and specifications are subject to change.
All warranty info is typically reserved for new units and is subject to specific terms and conditions. See us for more details. 
Due to the current environment, our features and options are subject to change due to material availability.
Manu-Facts:

In the early 1970s, Ralph Tait had an idea. So he went into his garage in Bend, Oregon and began tinkering. Several weeks and a few blisters later, he emerged with a revolutionary design for the first A-frame pop-up camper.
It was sensible. It was different. And it was light enough to be towed with just about any vehicle. Friends wanted one. Family wanted one. Friends of family wanted one. As word of mouth spread, Ralph found himself making more campers out of his garage. That's when Ralph's sons had their own bright idea. Why not turn this hobby into a real business?
The family moved to Pennsylvania and began making Aliner campers. Two brothers would build one. The third brother would hitch it to the family station wagon and drive across the country until he sold it. When he returned, the brothers would have another Aliner waiting. After years of hard work and several hundred thousand miles on the poor station wagon, the family retired in 2007. Today we continue to build every Aliner with the same quality, craftsmanship and pride as Ralph and his sons did for over 30 years.