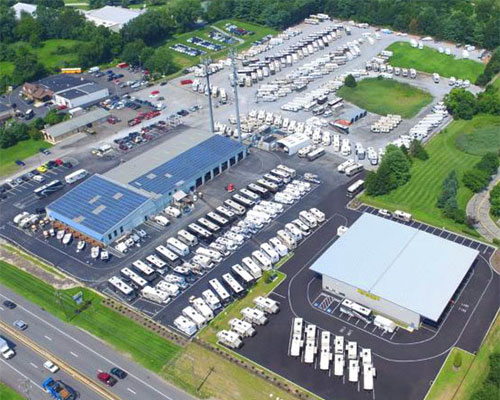 Our West Chester location is open to serve you.
We have significantly changed our dealership operations to help protect the health and safety of our employees and customers.
Click here to learn more about our commitment to you
. We'll continue to monitor developments and do what is necessary to help protect the entire General RV family.
HOURS
Sales
Monday: 9:00 am - 5:30 pm
Tuesday: 9:00 am - 5:30 pm
Wednesday: 9:00 am - 5:30 pm
Thursday: 9:00 am - 5:30 pm
Friday: 9:00 am - 5:30 pm
Saturday: 9:00 am - 4:00 pm
Sunday: Closed
Service
Monday: 8:00 am - 5:30 pm
Tuesday: 8:00 am - 5:30 pm
Wednesday: 8:00 am - 5:30 pm
Thursday: 8:00 am - 5:30 pm
Friday: 8:00 am - 5:30 pm
Saturday: 9:00 am - 4:00 pm
Sunday: Closed
---
RVS FOR SALE IN
West Chester, PA
General RV Center Acquires Stoltzfus RV's & Marine
The new location will be the company's second Pennsylvania store
WIXOM, Mich., November 1, 2023 – General RV Center, the nation's largest family-owned RV dealer, has expanded its footprint with the acquisition of Stoltzfus RV's and Marine, an RV and boat dealership in Pennsylvania.

Located approximately 35 miles west of Philadelphia in West Chester, PA, this is General RV's second Supercenter in the state and 17th location nationwide. General RV also has an Elizabethtown Supercenter near Harrisburg, PA, that includes RV sales, service and parts. With the acquisition, General RV positions itself to increase opportunities to serve RV enthusiasts and owners across the region, including Delaware, Maryland, New Jersey and New York.

"As a long-time, family-owned business, we are committed to strategic growth and further enhancing our current and new customers' purchasing and ownership experience," said General RV President Loren Baidas. "This means identifying new locations and acquisitions of dealerships who share our operational values. This location and the current team there align with our goal to not only grow in key markets, but continue to be the leader in the RV industry on all levels – customers, employees and community."

The location has two buildings that include an in-store parts department, a dedicated pre-delivery inspection facility, more than 20 service bays and a showroom with RVs on display. The facility includes 16 acres of new and used RVs ranging from affordable travel trailers to luxury motorhomes. Existing employees will remain with the store as General RV explores opportunities to grow the business.

"There are plenty of reasons why we are excited to join the General RV family," said Bob Cox, former President and CEO of Stoltzfus RV's and Marine and current General RV operations manager. "In the process of considering a transition, we wanted to partner with a company that had a great reputation in the industry and held the same values as our family. General RV was the obvious choice."

This is the third new location General RV has announced in 2023. Earlier this year, General RV broke ground on a second dealership South Weber, Utah and its first-ever Supercenter in Salisbury, North Carolina. Both of these locations are expected to open in late 2024.
---
CONTACT
US
If you have a general inquiry related to sales, service or parts, please contact us and we will follow up with you shortly.
Give us a call: 888-436-7578