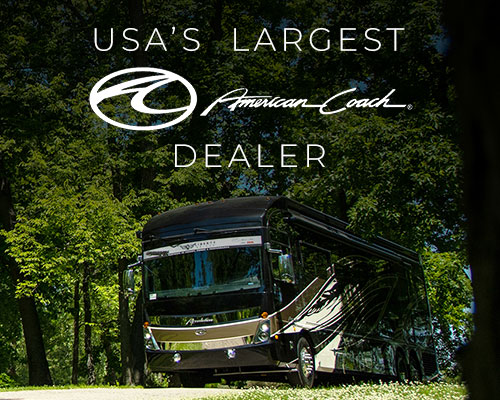 American Coach Luxury Motorhomes
Now Available at General RV

When it comes to what makes a luxury brand—whether it's watches, crystal, fashion or motorhomes —there are three key factors: materials, craftsmanship and legacy.
American Coach has set the standard for luxury RVs. By combining innovative engineering, top-of-the-line components, the latest technology, and rigorous construction standards, they have created a legacy of luxury that sets these motorhomes apart from all others.
This year American Coach is celebrating 30 years of its remarkable history by introducing an Anniversary Edition American Eagle to be unveiled in the coming months. Additionally, they are launching new upgrades throughout their luxury motorhome lineup, including all new front cap designs and stunning graphics. These exciting changes are all part of the rebirth of the American Coach brand.
See how extraordinary RV living can be behind the wheel of an American Coach motorhome. Explore the full line of American Coach Class A Diesel luxury motorhomes below.
Shop by Style: