New Inspection Facility
Your experience is our focus at General RV, and we continually look for ways to better serve you. That's why we are proud to announce the opening of our brand new RV Inspection Facility. Located near Elkhart, Indiana, this facility helps us provide a first-class experience at our dealerships and supports our mission of being your premier RV dealer.

Our Inspection Facility will benefit each step of your journey. You can shop with more peace of mind knowing each RV undergoes a rigorous multipoint inspection by our trained technicians. On your delivery day, we will conduct a final check-up of your new RV to ensure it is ready for your next adventure. During this time, we will also give your RV one final cleaning and install accessories you have selected. Shifting pre-delivery inspections to Indiana will also increase our stores' capacity for service appointments so when your RV needs repairs, we'll be able to get you back on the road faster.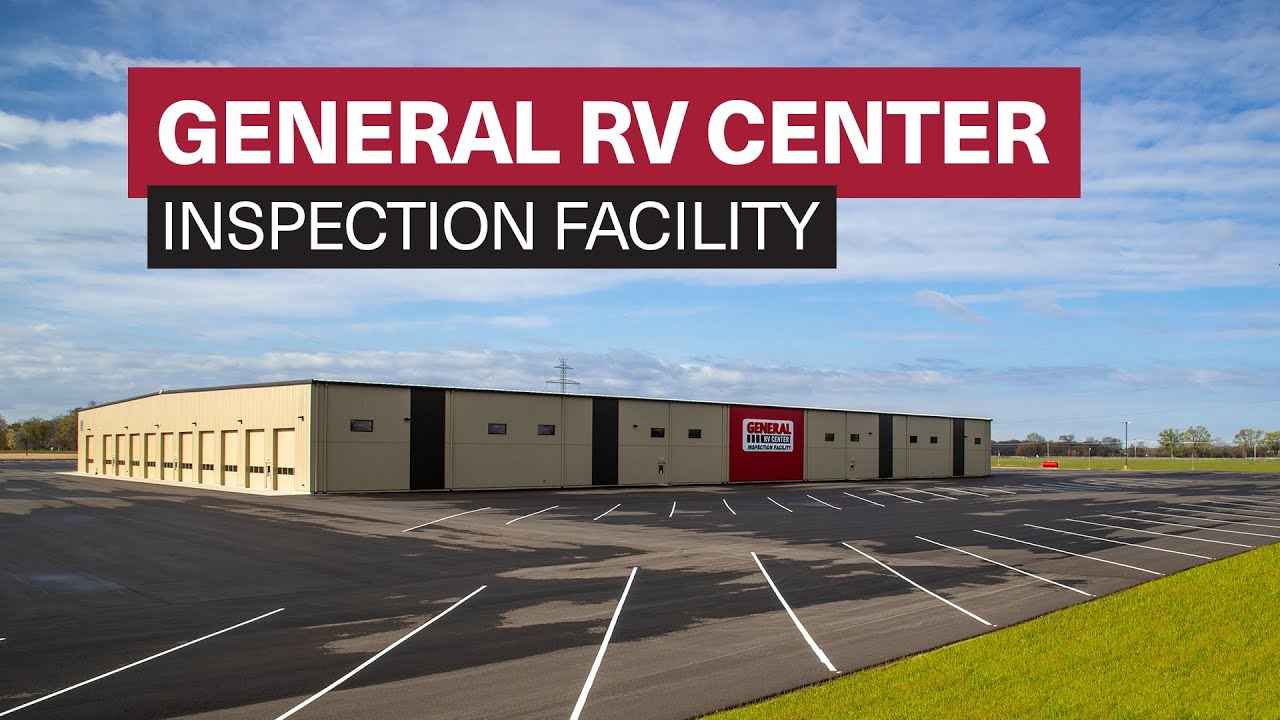 Inspection Facility At A Glance
Our New RV Inspection Facility Helps Us Serve You Better
The Industry
Our Inspection Facility is an industry-first; no other dealer has invested in a facility of this size dedicated to pre-delivery inspection work. General RV truly is leading the way in the RV industry by continuously elevating your premier experience.
The Community
Elkhart, Indiana is the RV Capital of the World and home to the RV/MH Hall of Fame and Museum. Many RV manufacturers are located near here and this proximity allows us to work closely with our industry partners and utilize their expertise as RVs are processed at our Inspection Facility.
The Facility & Technology
Our Inspection Facility spans 150,000 sq. ft. with two production lines for inspections plus 20 service bays that utilize state-of-the-art technology. We also invested in custom software that helps us track every RV and enhance communication to flag any potential issues.
The People
Our people are the key to our success. We selected industry veterans with decades of experience to lead our Inspection Facility teams. Highly trained, dedicated RV technicians perform comprehensive multi-point inspections.
The Premier Experience
We are committed to providing an industry-leading purchase, delivery and ownership experience. Our Inspection Facility will benefit each step of your journey whether you're shopping for your new RV or scheduling a service appointment for your current RV.
Now Hiring All Positions
Join our team to help us provide a premier experience for our customers. Whether you're already a part of the RV industry or are looking for something new, this is the perfect time to accelerate your career! We offer competitive compensation, great benefits, and growth opportunities. Additionally, you'll have the chance to make a real impact within our organization in this first-of-its-kind facility!
Positions Available
Benefits At General RV
About General RV
General RV was founded in 1962 when Abe Baidas converted a Detroit gas station in to a small RV sales and manufacturing facility. From those humble roots, we've grown into the nation's premier RV dealer and helped millions of families experience the RV lifestyle. With the support of our talented employees, General RV now operates 14 Supercenters in seven states. Learn more about our 14 Supercenters at GeneralRV.com/RV-Dealer.