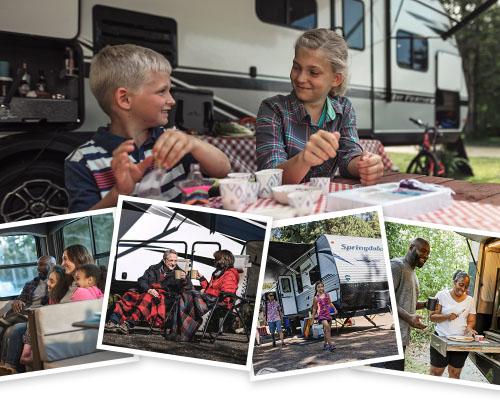 Company Leadership
Loren Baidas
President
Loren Baidas is President of General RV Center, a family-owned RV dealer founded in Detroit in 1962 that currently operates 14 Supercenter locations across the nation. He has held his position since June 2006.

Loren's work philosophy is simple: Be better. He strives to make General RV a better place for employees, customers and manufacturers. Once a goal has been achieved, he sets his sights on the next one and the one after that. There is always something to work on according to the third-generation family owner, whether that's developing people, improving processes or investing in technology.

Growing up around RV dealerships, Loren spent every summer of his teens working in the retail Parts department. After attending Alma College, he pursued a career outside the family business and worked as a credit analyst in the banking industry. He returned to General RV Center in 1999 with some persuasion from his father and became a sales associate in the Wixom dealership. Prior to becoming president, he was general manager of the Wixom Supercenter and a national sales manager for the company.

Although his family has owned and operated General RV for nearly 60 years, Loren sees himself as a steward of the company rather than its sovereign. With an eye always on the future, he makes decisions by considering the impact they will have on the long-term health of the organization and with the next generation of stewards in mind.

Additionally, Loren served on the board for Detroit Public Television from 2017-2021. He supports Alma College and Michigan State University. His family also founded the Richard Baidas Memorial Scholarship fund in honor of his late father.

Loren and his wife Sarah recently celebrated sixteen years of marriage. They reside in the Detroit suburbs with their three young boys. In his spare time, Loren coaches them in basketball and soccer. He also enjoys playing basketball and golf, cheering on the Spartans, and attending Detroit sporting events. It's no surprise that tailgating is one of Loren's favorite ways to RV. When they're not busy at home, the whole family enjoys getting active outdoors; Grand Tetons, Yellowstone, Moab, Canyonlands and Arches are some of their favorite national parks to explore.
Robert Baidas
Chief Executive Officer
As Chief Executive Officer, Robert Baidas leads the expansion, growth, and investment opportunities for General RV Center. In conjunction with the directors and management teams, Robert heads strategic planning for the organization in order to keep General RV at the leading edge of the RV industry.

Additionally, Robert is a second-generation owner of General RV. His father, Ambrose "Abe" Baidas, founded the company in 1962. The business started as a gas station and small utility trailer shop in Detroit, Michigan. Robert, along with his brothers and sister, worked weekends and summers through high school at the gas station and later in the dealership. "We did a little bit of everything from working in the office to the back of the shop," he said.

Robert attended college at the School of Business at Western Michigan University and acquired a Finance degree from Eastern Michigan University in 1981. After graduation, his first entrepreneurial endeavor was a mail order RV parts catalog that he started along with his wife, Nancy. The mail order catalog became what is now Salem Distributors. Today, Salem Distributors is one of the largest distributors for the RV industry and continues to be operated by the Baidas family.

In 1983, Robert joined General RV again, bringing with him the knowledge and experience gleaned from his other ventures. "We moved a little mom and pop business into the twentieth century," said Robert about his role in making the decision to relocate General RV Center to Wixom, as well as opening multiple new locations across the state of Michigan. He implemented computer and accounting systems, which allowed General RV to grow into the largest RV dealership in Michigan.

And the company continued to grow from there. In 2008, General RV Center began expanding in other states. To support the business of selling RVs, the Baidas family formed other standalone companies including finance, insurance and reinsurance agencies. "The growth of our companies is fueled by the people we have working with us, from our management team on down. We are all focused on customer service and treating people with respect," said Robert. This dedication to strong values continues today.

Currently, Robert and his wife Nancy are nearing their 45th wedding anniversary. They enjoy spending time with their children and grandchildren. Robert is also focused on giving back by working with local non-profits and RV industry organizations.
Chris Davis
VP of Finance
Chris Davis is Vice President of Finance at General RV Center, and is celebrating his 10th anniversary with the company. He joined the company in 2011 as Director of Finance, and now oversees several teams including the Finance Department as well as America's Choice Insurance Partners.

For Chris, taking care of the customer is of the upmost importance. To ensure an outstanding guest experience, Chris emphasizes and relies on quality and consistent teamwork, supported by the hardworking and dedicated efforts of the employees he manages.

Michigan has been home for Chris and his family for the past decade, moving to the Great Lakes State after joining General RV Center. He previously lived in Chicago for several years while working at a consulting firm, and grew up in Ohio as a lifelong OSU Buckeyes fan. Chris is an alum of Miami (OH) University, earning a Bachelor's degree in Finance in 2005.

Much of Chris' time outside of General RV is spent with his family. A father of two young boys and a devoted husband, Chris and his family often utilize the advantages of RVs during small road trips and adventures. Chris and his wife also enjoy giving back to the community, and recently organized fundraising efforts to replace playground structures at schools in their childrens' district.
Katie Short
Chief Financial Officer
Katie Short is Chief Financial Officer for General RV Center, managing the company's financial transactions and ensuring compliance with regulatory reporting.

A native of Ohio, Katie moved to Michigan with her family at a young age. She went on to graduate from Walsh College with a Bachelor's degree in Accounting, quickly earning her CPA certification. The first 6-7 years of her career were in the public accounting field, becoming a partner with a small CPA firm. Katie ultimately made the switch to private accounting as an assistant controller.

Nearly 25 years ago, Katie joined the General RV family as a controller, taking over as lead of the company's accounting team before being named as General RV's CFO. Katie has witnessed General RV's meteoric growth over the previous years, noting that the most challenging aspect of managing that growth is keeping up with its incredible pace and reorganizing staff and their responsibilities to accommodate it. Katie has always praised the environment at General RV and the Baidas family for making her feel like one their own. Part of that family atmosphere includes embracing an Open Door Policy with all employees, and listening and learning from fellow team members regardless of age, gender or position. From porter to president, Katie says she has learned much from all.

As an empty-nester with her retired husband, Katie enjoys spending time on the golf course, as well as traveling the world, having visited 25 countries and counting. Iceland, Thailand and South Africa are her favorite nations to visit, with Australia on the future wish list. Now an occasional camper, Katie and her family have many wonderful memories of summers together in an RV. Katie has been married to her husband for 35 years and has two grown children.